UV PROTECTION COATING FOR THERMAL INSULATION STARBOND 30-36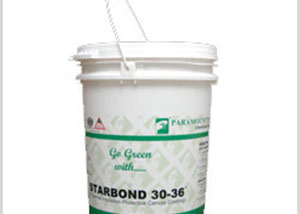 STARBOND 30-36 is a tough and flexible adhesive and sealant, forming a durable seal against air leakage. Due to its excellent water, U.V. and abrasion- resistance, it can be used in outdoors as well as indoors in thermal insulation system on metal duct.
Recommended Use
It is used for outdoors as well as indoors thermal insulation material on metal duct, in areas where high humidity and elevated temperature are major problems. It may be applied to the joints or edges of fibrous duct liner insulation to seal and prevent air erosion.
Features
| | |
| --- | --- |
| 1 | Good adhesion and high strength |
| 2 | Water resistant can be washed with mild soap |
| 3 | Non-toxic & non- flammable |
| 4 | Ultra-violet resistance |
| 5 | Chemical resistance |
| 6 | Antifungal & antibacterial |
| 7 | Suitable to middle east climatic condition |
| 8 | High temperature resistance |
Packaging
| | |
| --- | --- |
| 1 | STARBOND 30-36 is available in 25 kgs air tight Plastic Pail. |
Download