EPDM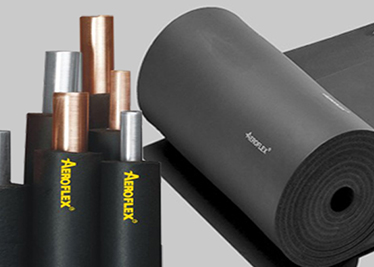 AEROFLEX Closed Cell Tube and Sheet Insulations is a flexible and lightweight elastomeric material designed for insulating liquid cooling and heating pipelines.
About AEROFLEX
Since 1978, AEROFLEX has been manufactured by Eastern Polymer Industry Co., Ltd. Through all these years of continuous developments , Aeroflex has become the world's leading manufacturer of EPDM (Ethylene Propylene Diene Methylene) synthetic rubber based closed cell light weight elastomeric thermal insulation with multiple manufacturing operations in USA, India, China, Germany, Switzerland, Russia and Thailand.
The closed cell structure of Aeroflex provides many advantages over most rigid insulations such as:
| | |
| --- | --- |
| 1 | Temperature range: Aeroflex standard product insulate to save energy and prevent condensation when used in operating temperatures down to -57oC (-70oF) and insulate against heat loss up to 125oC (257oF). However, for higher temperature up to 150oC (300oF), Aeroflex- HT is recommended which is suitable for electric heater and radiator system. |
| 2 | Moisture and vapor resistance without using additional vapor barriers. |
| 3 | Stable thermal conductivity (K. value/µ value) throughout service life, due to its dense surface skin and closed cell characteristics. |
| 4 | Flame and Smoke proof |
| 5 | UV and weather resistant |
| 6 | Non—Polar Material |
| 7 | Anti Vibrations and Resonance |
| 8 | Flexibility which makes installation work easy and neat. |
| 9 | Outstanding ultraviolet and weather resistance. |
AEROFLEX is an ideal insulation for frost control on sub-zero piping. It prevents heat gain and condensation problems on chilled water and refrigerant pipelines, and it also prevents heat loss from hot water plumbing, liquid and dual temperature piping.
Aeroflex EPDM is available in
• Tube,
• Sheets,
• Pre-cut sheets,
• With Self Adhesive tape and Protape cover
• With Aluminum foil lamination
Download