Irradiated Cross-linked Polyethyle Foam
(IXLPE)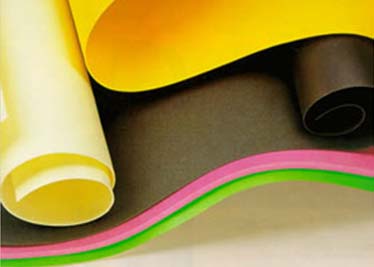 IXLPE Foam is lightweight, environmentally friendly, and extremely versatile. The fine, closed-cell product, is available in continuous rolls or sheets, and has two smooth skins making it very easy to fabricate.
The crosslinking process in foam is achieved by high energy electron beam scanning the foamable polymer sheet.
The Physically Crosslinked Polyethylene Foam has very fine closed cells and enhanced smooth skin and better physical properties compared to Chemically Crosslinked Polyethylene foam
IXLPE foam may be expanded from 3 to 50 times and has a closed cell structure. Compared with other foams, IXLPE foam has better characteristics in mechanical properties, dimensional stability, lightweight properties, heat insulation properties, heat resistance, chemical resistance and fabricability. IXLPE is therefore a very versatile and popular material used extensively in the fields of packing, building and construction, sundry goods etc.
Various available Grades
| | |
| --- | --- |
| 1 | Standard grade |
| 2 | Flame retardant (passed UL94HF-1 ) |
| 3 | Flexible, Strong Skin, Excellent elongation |
| 4 | High temp, resistance, Rigid foam, Suitable for hear molding |
| 5 | Thin Foam (Thickness is less than 1.5 mm) Flexible, Strong skin, Excellent elongation |
| 6 | Supreme-high temperature resistance, High-rigid foam, Suitable for heat molding |
Characteristics
| | |
| --- | --- |
| 1 | Density range : 20kg/m3 to 200kg/m3 |
| 2 | Flexibility : Very soft to semi-rigid |
| 3 | Delivery forms : rolls and boards |
| 4 | Available in many colors |
| 5 | Very fine and uniform cell structure |
| 6 | Smooth surface and attractive appearance |
| 7 | Good mechanical properties |
| 8 | Good shock absorption characteristics |
| 9 | Good impact sound deadening properties |
| 10 | Excellent resilience |
| 11 | Good temperature resistance |
| 12 | Excellent thermal insulation properties |
| 13 | Very Low water absorption |
| 14 | Low water vapour transmission rate |
| 15 | Excellent chemical resistance |
| 16 | Good weathering resistance |
| 17 | Good dimensional volume stability |
| 18 | Odourless |
| 19 | Good fabricability |
Applications
| | |
| --- | --- |
| 1 | Automotive |
| 2 | Insulation & Industries |
| 3 | Packaging & Gasket |
| 4 | Building & Construction |
| 5 | Sport Leisure & Consumer goods |