PolyPropylene Flute Sheet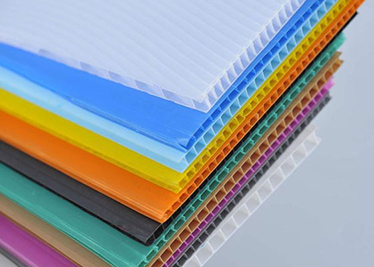 PP Flute Sheets are a versatile thermoplastic packaging material for both industrial as well as consumer goods. They are tougher than corrugated boards yet lighter than wood, and thus save on freight. Besides cushioning, they have excellent burst and puncture resistance. PP Flute sheets are also water proof, chemical resistant and heat resistance. They are vermin and termite proof and antifungal. Moreover, they are easy to process, cut, bend, stitch, staple, print and handle.
Profile Options:
We offer various PP profile options to suit the customer specifications and applications.
| | |
| --- | --- |
| F-type | • Most commonly used profile which has a straight flute which has strength in vertical direction. |
| S-type | • Possess wavy flutes which provide an improved strength in vertical direction. |
| K-type | • Innovative flute design results in more strength than F-type and S-type flutes at lower thickness. |
| Antistatic | • Prevents damage to electronic components which are prone to electrostatic discharge while shipping or storage. It is also used by pharmaceutical industry, where dust free protection is required. |
Salient Features:
| | |
| --- | --- |
| 1 | Light Weight |
| 2 | Tough and Strong |
| 3 | Impermeable to Water/Moisture |
| 4 | Environment Friendly |
| 5 | Non Corrosive |
| 6 | Non Fibrous |
| 7 | Washable and Wipeable |
| 8 | Chemically Inert |
| 9 | Easy to Fabricate and Convert |
Applications:
F & S Flute:
| | |
| --- | --- |
| 1 | Yarn Separator Sheet |
| 2 | POP and signage, Hoardings, Display Boards, Signboards, Exhibition Stalls and Portfolio bags |
| 3 | Transit and Storage Boxes |
| 4 | Collapsible /Foldable Cartons |
| 5 | Bins and Totes |
| 6 | Internal Partitions and Separators |
| 7 | Internal Linings/Liners |
| 8 | Storage Trays/Bins |
| 9 | Work Stations |
| 10 | Assembly Mats |
| 11 | Floor Mats |
| 12 | Shielded Coverings |
Thickness Tolerances:
• +/- 0.1 mm (in 3.0 & 4.0 mm)
• +/- 0.2 mm (in 4.0, 5.0 & 6.0 mm)
•+/- 0.1 mm (in 8.0 & 10.0 mm)
K-Flute:
Product Capability:
| | | |
| --- | --- | --- |
| | Thickness(mm) | Grammage Range (GSM) |
| 1 | 4.0 | 550 – 900 |
| 2 | 5.0 | 650 – 1000 |
| 3 | 6.0 | 900 – 1200 |
| 4 | 4.5 | 600 – 950 |
| 5 | 5.5 | 750 – 1100 |
Thickness Tolerances: +/- 0.2 mm (in 4.0, 4.5, 5.0, 5.5 & 6.0 mm)
Product Offerings:
Types of Flutes
A. Straight/Normal Flutes, i.e. 'F-Type'
B. Sigma/Zigzag Flutes, i.e. 'S-Type')
C. Cross and Straight Flutes, i.e. 'K-Type'
Maximum Width
• 2000 mm ( F-Type, i.e. Straight/Normal Flute)
• 1830 mm (S-Type, i.e. Sigma/Zigzag Flute)
• 1350 mm (K- Flute – with Carona Treated)
• 1400 mm (K- Flute – without Carona Treated)

Thickness Range
• F & S Flute : 2.o to 10 mm (2.0, 3.0, 4.0, 5.0, 6.0, 8.0 and 10.0)
• K Flute: 4.0, 5.0 & 6.0 mm (also 4.5 & 5.5 mm)

GSM Range
• F & S Flute: 275 gsm to 2300 gsm (based on thickness)
• K Flute: 4.0, 5.0 & 6.0 mm (also 4.5 & 5.5 mm)

Kind of Flutes Possible
a. Narrow Flute : 2.0, 2.5, 3.0 & 4.0 mm
b. Broad Flute: 4.0, 5.0 & 6.0 mm
c. Broad Flute: 8.0 & 10.0 mm

Special Features
• Co-Extrusion (besides normal Mono Extrusion)
• To offer Doubled Colored, Special Surface Properties)

Download